Introducing Income Protection
Your income may be your greatest asset. In a series of articles we're going to talk about the benefits of income protection insurance.
David Smith
Content Writer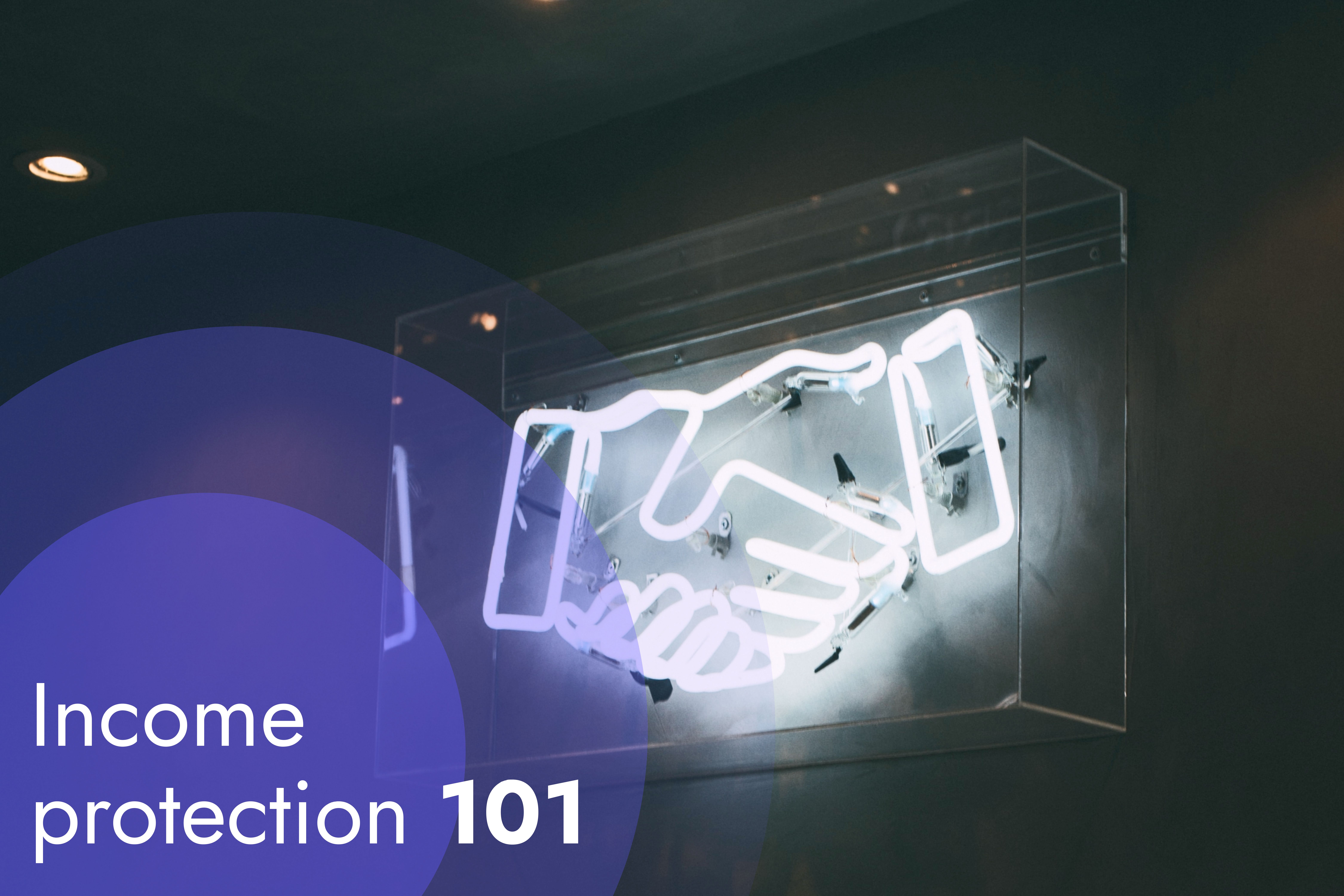 It's impossible to guard against all of life's uncertainties. Some of the most disruptive ones are unexpected illness and injury, which can have disastrous consequences for our finances.
Here are three statistics to show what we mean:
Over 2.5 million people in the UK every year are forced to stop working because of illness or injury (ONS).

35% of people will be off work for at least 2 months because of poor health at some point in their working lives (ONS).

The average household could survive for just 24 days if it lost its income (Legal & General).
So if you're suddenly unable to earn, what are your options?
Building up an emergency fund to cushion you against the loss of your income needs discipline and could take a long time.
These provide immediate help but you'll have to repay what you borrow with interest
This might give you more flexibility and breathing space but it's far from ideal to rely on the help of people close to you and may not be sustainable in the long term.
An alternative source of regular income when you're unable to work.
Let's examine income protection insurance – how it works, and what to consider when buying a policy.
Income protection insurance is a financial safety net that gives you a regular income if you become too ill or badly injured to work.
You buy a policy that will meet your financial needs.
If you're forced to stop working you make a claim under your policy.
If you can't work you'll get regular monthly payments to replace your earnings.
You'll carry on receiving payments until you're able to go back to work or you reach the end of your benefit term
Income protection insurance helps towards keeping you financially stable when illness or injury makes it impossible to work and earn. It allows you to concentrate on recovering and getting back to work, helps you cope with your outgoings and provides peace of mind.
Income protection insurance pays you a regular monthly benefit when you're not fit to work. The benefit you receive is a percentage of your gross income, worked out according to how much you need and what cover you can afford.
Decide what you need - your benefit amount - and when you'll need it - your waiting period.
When deciding how much they need each month, some people choose to go as high as possible but this increases the premiums. Others think about how their lifestyle would change if they weren't working and concentrate on paying for essentials. A good way to start thinking about what you need is to work out the bare minimum you'd need each month.
You might need your payments to start as soon as possible or you might be able to support yourself for the first month or two. The longer the waiting period the lower your premiums, so ask yourself how long you could support yourself financially without a steady income.
When you're ready to apply you'll be asked to answer some questions about your health and lifestyle. Once you've finished this eligibility check and been accepted you're ready to buy.
You pay for your policy with monthly premiums by direct debit from your bank account. The size of your premium depends mostly on the benefit amount and benefit duration you've chosen but there are other factors that will affect it.
If you fall ill or get injured and have to stop working, contact your insurer to make a claim.
Fill in the form online or call 0808 196 1113. Send your claim form as soon as possible before you need your first payment.

Submit the additional information we need (see below).

A claims handler will assess your claim and start making your payments. If they need more information, they'll let you know straight away.
Our claim form asks you for your basic information, how you can be contacted, your job description and duties and also details of the illness or injury.
In addition to this, make sure you have a copy of your passport or driving licence, a self-signed medical certificate for the first 7 days that you're off work (we need certificates signed by your doctor after that) and evidence of your employment and income.
Your insurer will assess your claim according to the terms and conditions in your policy.
Once your claim is approved and the waiting period is over you'll start getting regular monthly benefit payments to replace your lost earnings.
Any sick pay you're still getting from your employer at the time you claim will affect the level of benefit you receive under your policy. If you're off sick on full pay there's no immediate loss of income so there's nothing for your insurance to replace. If your sick pay covers only part of your income your policy will make up the difference. When your sick pay stops you'll qualify for the full amount of your insured benefit.
If you have income protection with another insurer you could still claim against both policies, but we'll liaise with them to make sure we don't end up contributing beyond the limit of what you're entitled to - 70% of your gross salary
You'll keep receiving the monthly payments until you can go back to work or you reach the end of your benefit term (the maximum period stated in your policy) or your policy ends.
Once you've decided on a policy that meets your needs, complete an application and, once you've been accepted, choose a start date.. If you have to stop working you simply make a claim and start receiving payments to maintain your income while you focus on getting fit for work again.
It could be important to consider how you would get by without your income, whether you're an employee or self-employed.
Which? Magazine calls it 'the one protection product every working UK adult should consider buying.'
If you're not well enough to work, your employer is only obliged to pay you the minimum statutory sick pay, which is currently £109.40 a week for up to 28 weeks.

Average take home pay, after tax and NI, is £640 per week according to the Office for National Statistics

Basic sick pay is just 17% of the average salary.
Could you afford to live on that?
When compared to average household outgoings, the help you get from statutory sick pay is limited and not everybody benefits from having contractual sick pay An income protection policy can be tailored to your exact requirements so you can still cover your outgoings even while you can't earn
The cost of income protection insurance depends on your needs, choices and circumstances. Here are some of the factors that will affect the cost:
The level of income you wish to receive during the policy term affects the premium. The higher the benefit amount the higher the premium.
Younger people typically pay lower premiums than older people. Age can influence your risk profile and the likelihood that you'll need to make a claim.
The length of time you want to receive benefit payments also influences the cost. A longer benefit duration may lead to higher premiums.
The waiting period is the length of time you need to wait after making a claim before you receive benefit payments. If you choose a longer waiting period you can lower the premium.
If this sounds overwhelming don't be discouraged. At Eleos we're making it easy for you to understand the costs and to customise a policy that fits your circumstances. All we need is some basic information, like your occupation, date of birth and income, then we'll come up with a range of options designed just for you. Simply pick the one that suits you best.
Try our instant quote tool and see for yourself.
Our next article compares income protection insurance to other common forms of income protection.
Here are some useful places to find out more about income protection insurance:
What is income protection insurance? | MoneyHelper
Eleos Life Limited (FRN: 979255) is an appointed representative of Innovative Risk Labs Ltd which is authorised and regulated by the Financial Conduct Authority. Eleos Life Limited is a company registered in England and Wales (Company Number 14010855), with its registered office at 71-75 Shelton Street, Covent Garden, London, United Kingdom, WC2H 9JQ
©Eleos Life Limited 2023