Celebrities Who Worked in Insurance
Very few celebrities go from obscurity to international fame overnight. Instead they took fairly unglamorous first steps into the world of work. Here are some now-familiar figures who got their start in insurance.
David Smith
Content Writer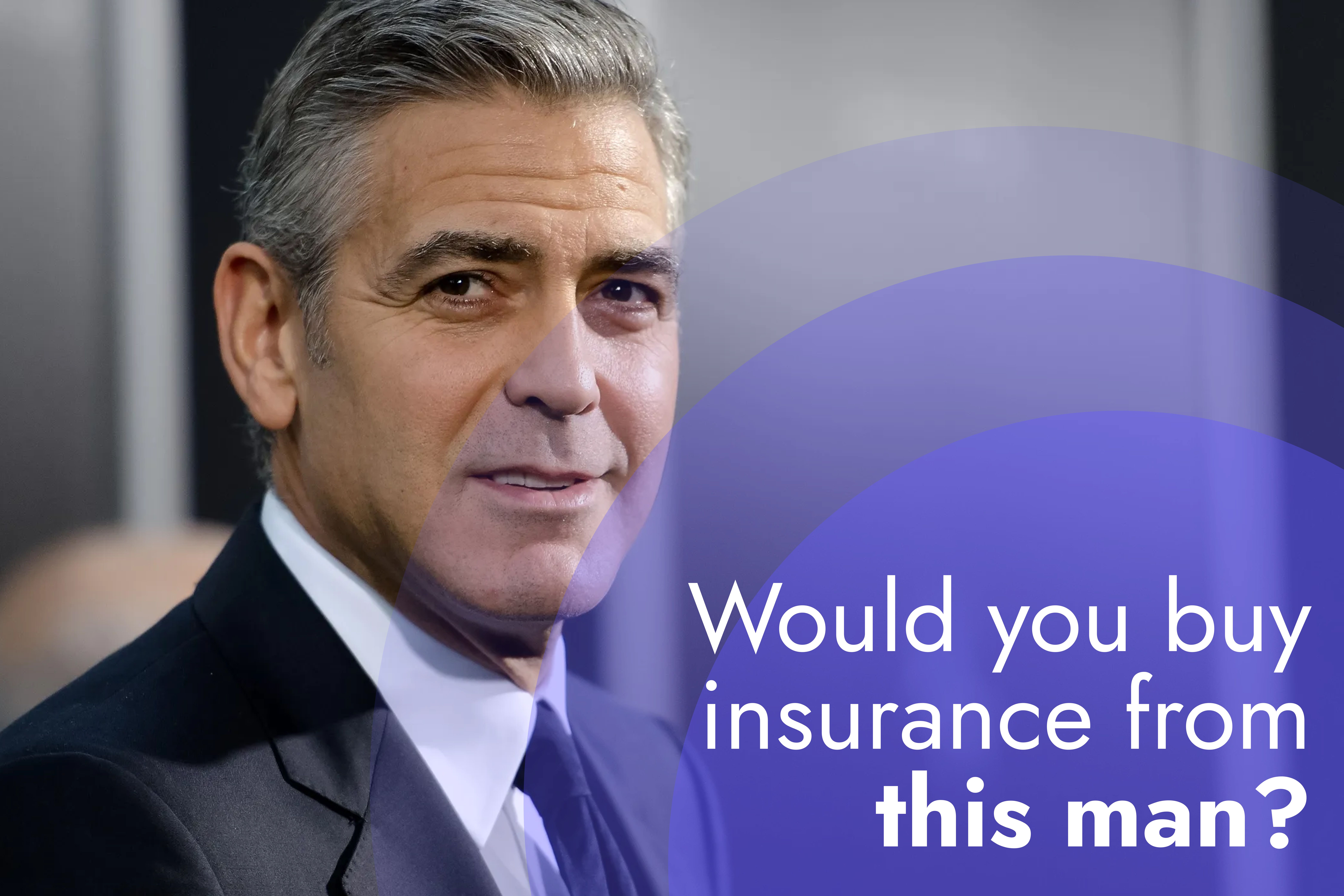 One of the biggest and most powerful stars in Hollywood got his big break on the TV series 'ER'. He also has a family connection with the movies as the nephew of Rosemary Clooney, star of 'White Christmas'.
However, his beginnings were less glamorous. During the lean years of relentless auditions he made ends meet as a door-to-door insurance salesmen. As he told the Daily Mail:
"I was a struggling actor for ten years and I have a great understanding of what it's like to try to make things work...I would buy suits that were too long in the leg, cut the bottoms off and hem them up with a stapler, and use the leftover fabric to make ties for work…I sold insurance door to door — cold calls, knock knock, "Hi, do you have whole life insurance? We can turn whole life into term life and you can put the rest of your money into your retirement fund!" Believe me, it's a terrible job."
He wasn't very good at it either. He received only one commission. And, as he tells it, 'the guy died.'
Before he became the titan of best-selling thriller novels, Clancy supported his wife and four children by selling car, fire and casualty insurance for his wife's grandfather's insurance business. Unlike Clooney he was a natural and was so successful that he ended up buying the company. Moving from salesman to proprietor gave him the time to finish his first novel, 'The Hunt for Red October'. He sold it for $5,000 to the Naval Institute Press, which had never published fiction before. Released in 1984 and filmed in 1990, the book was warmly endorsed by President Reagan and has sold over 5 million copies.
Reflecting on how his earlier job helped his literary career, he told the New York Times:
"In the insurance business, you have to pay attention to details or a client could lose everything. A doctor has to, a cop, a fireman, why not a writer?"
The fearless motorcycle stunt rider is well known for both his record-breaking successes and his catastrophic failures. He claims to have broken every bone in his body over the years and after breaking his collarbone and shoulder he temporarily exchanged the daredevil life for the safer pursuit of selling insurance.
The experience changed his life. His bosses had written a book called 'The Business Success System that Never Fails' and when Evel read it he discovered the power of positive thinking. When he was passed over for promotion he regained his passion for showmanship, got back on his bike and rode into the pages of history.
Eventually scaling the same commercial heights as fellow novelist Tom Clancy, Anne Rice achieved enormous success with her horror novels. Her 1976 debut, the international bestseller 'Interview With the Vampire' was filmed in 1994 with Brad Pitt and Tom Cruise.
But before she reinvented herself as a novelist she worked as an insurance claims processor in New Orleans. Where Clancy was good and Clooney was bad, Rice was decidedly indifferent. When she struggled away at her desk she couldn't have imagined she'd end up selling 100 million books, owning huge properties all over the US and employing 49 domestic staff.
The military rank wasn't a marketing gimmick. Harland David Sanders really was a veteran who'd attained the rank of Kentucky Colonel. At 65, the age when most people are contemplating retirement, he used his savings and his social security payments to found Kentucky Fried Chicken (since rebranded as KFC). In the early days he even had to sleep in his car while he waited to close deals. But for most of his life he had worked as a cold-calling door-to-door insurance salesman in Indiana. He credited that experience with giving him the skills to sell his franchise and build his finger lickin' good empire.
In 1976 Bruce Jenner won gold in the decathlon at the Montreal Summer Olympics and became an American hero. As if one historic life event weren't enough, 39 years later Bruce very publicly became Caitlyn, halfway through the 14 year-run of 'Keeping Up With the Kardashians'. These are the reasons for her international fame today, but before the gold medal Jenner was an unknown athlete with dreams of Olympic glory. Through the years of intensive daily training he supported himself with a job selling insurance in the evenings, earning $9,000 a year. According to some estimates she's now worth $100 million. Jenner's is a life full of surprises and a unique version of the American Dream.
OK, it's actually the 'insult' comedian Don Rickles, but he's best known in the UK as the voice of the slightly neurotic, lovestruck plastic toy in the 'Toy Story' movies. After serving in the US Navy during World War II he tried to become an actor but when that seemed to be a dead end he took to performing stand-up in comedy clubs. In the early years he had to rely on a day job to make ends meet so he decided to follow in the footsteps of his insurance salesman father. He was not a success and was hopeless at closing a sale. In his autobiography he revealed that his father described his sales technique as 'the kiss of death'. Fortunately for Rickles and his audience he found his true calling and enjoyed a 60-year career in entertainment.
Eleos Life Limited (FRN: 979255) is an appointed representative of Innovative Risk Labs Ltd which is authorised and regulated by the Financial Conduct Authority. Eleos Life Limited is a company registered in England and Wales (Company Number 14010855), with its registered office at 71-75 Shelton Street, Covent Garden, London, United Kingdom, WC2H 9JQ
©Eleos Life Limited 2023